Tonight I visited the Post Falls City Council.  It turns out the meetings, which are held every first and third Tuesday, are open to the public.  Not only that, they broadcast live on cable and online.  I'm trying to dig up the information on that and will provide links as soon as I can.
Update: Here is the Youtube Channel of archives.
You can see the rulers of Post Falls here.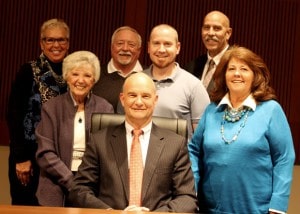 Post Falls City Council (L-R): Seated: Mayor Ron Jacobson. Standing (L-R): Linda Wilhelm, Betty Ann Henderson, Skip Hissong, Joe Malloy, Alan Wolfe, and Kerri Thoreson.
Following this link, you can add the Post Falls city calendar to your Google Calendar. That way you'll never miss a council meeting, planning and zoning meeting, etc.  It will ask you this question, to which you must say yes, after you log into your Google account of course.

OK, on to the juicy stuff!
Actually this week there isn't anything juicy.  It was pretty ho-hum.  One thing everyone should know is there is a point in the proceedings open to the public.  Even if your issue is not on the agenda, they open the floor and each citizen has up to 5 minutes to bring your pressing needs to the attention of the government of Post Falls.  You can tell these guys would love some community input.
Will you go to an upcoming city council meeting?  What issues are you concerned about?  Feel free to post in the comments!